Love him or hate him, it cannot be denied that Deion Sanders has his No. 18 Colorado Buffaloes as the talk of college football. 
After going 1-11 in 2022 and winning double-digit games in a season just once in the past 21 years, the new head coach has his Buffaloes undefeated after upsetting TCU and taking down rival Nebraska at home.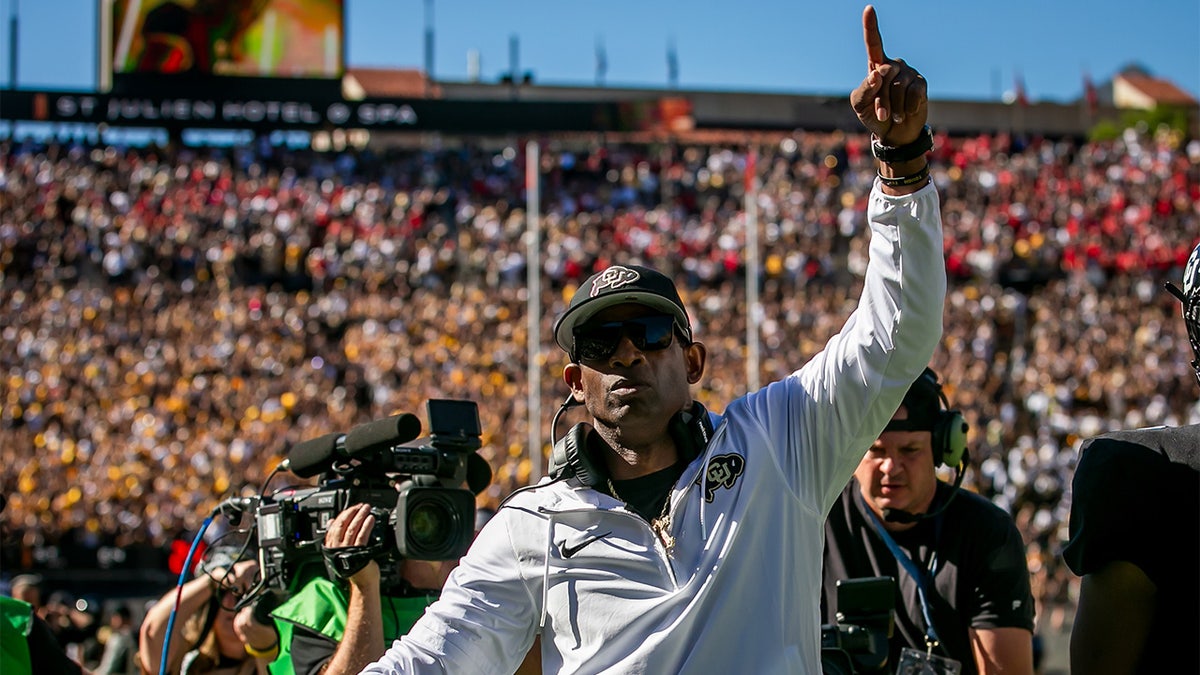 The fast start is making a big difference in recruiting as Boulder has become the place to be.
"We are receiving so many calls at this point right now that it's absurd," Sanders said Tuesday at his weekly press conference. "Just inquiring about what we do and how we do what we do in visitation and desiring to come on an unofficial or official visit. So, I'm liking where we are right now."
COLORADO STATE HEAD COACH APPEARS TO TAKE SHOT AT DEION SANDERS: 'I DON'T CARE IF THEY HEAR IT IN BOULDER'
Fox's "Big Noon Kickoff" was at the first two Colorado games and the pregame show will once again make the trip to Boulder for the Buffaloes' matchup with in-state rival Colorado State in Week 3.
Sanders and his Buffs are in demand, with ESPN's "College Gameday" also making the trek to Folsom Field on Saturday.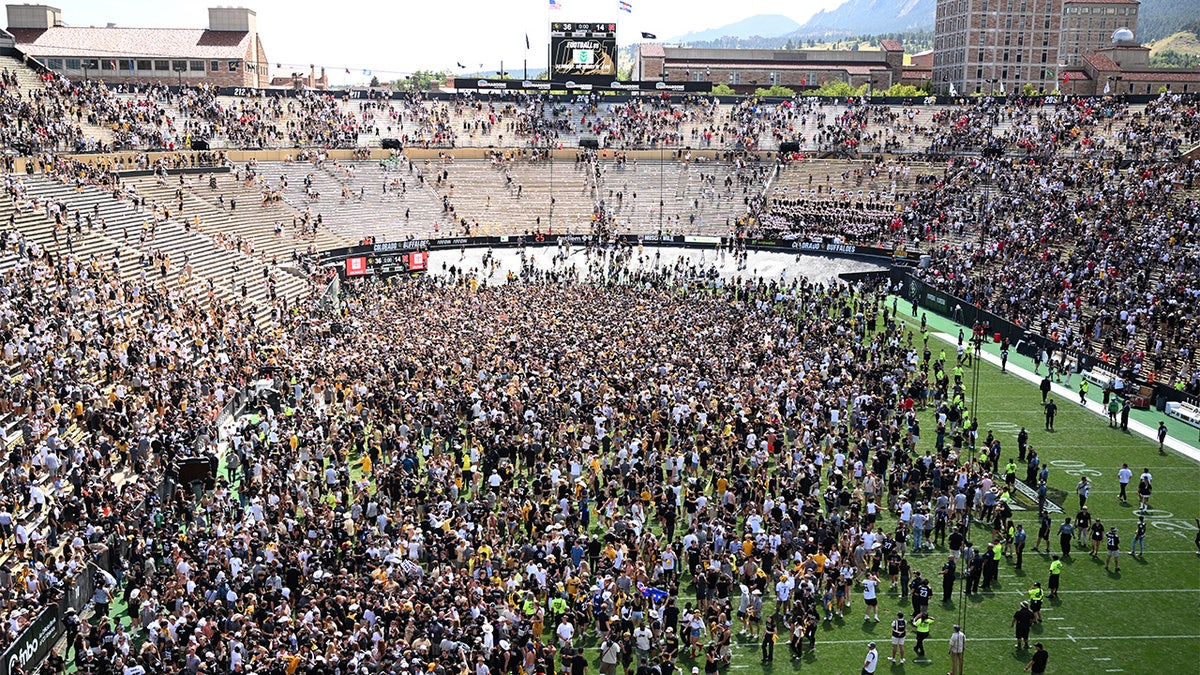 The matchup against Colorado State is the final game before Colorado's schedule gets really tough as Sanders and the Buffs head to Oregon before welcoming USC to Boulder in Week 5.
But while Sanders and his overhauled roster are the talk of college sports, Week 3 of the college football season does hold a few other interesting matchups, albeit without a single top-25 matchup.
Let's take a look at the games to be aware of in Week 3.
Mississippi State vs. No. 14 LSU – Noon ET
LSU head coach Brian Kelly said he misjudged his team after an opening weekend loss to Florida State.
"Congratulations to Florida State. They played a great second half," Kelly said in his postgame press conference. "They were the better football team tonight. We certainly are not the football team that I thought we were."
IOWA'S CADE MCNAMARA LOSES IT OVER WORD CHOICE WHILE TALKING WESTERN MICHIGAN'S DEFENSE: 'NOT EXPECTING THAT'
A matchup on the road against SEC West foe Mississippi State should give Kelly a better feel for his team after a dominant 72-10 win over an FCS opponent in Week 2.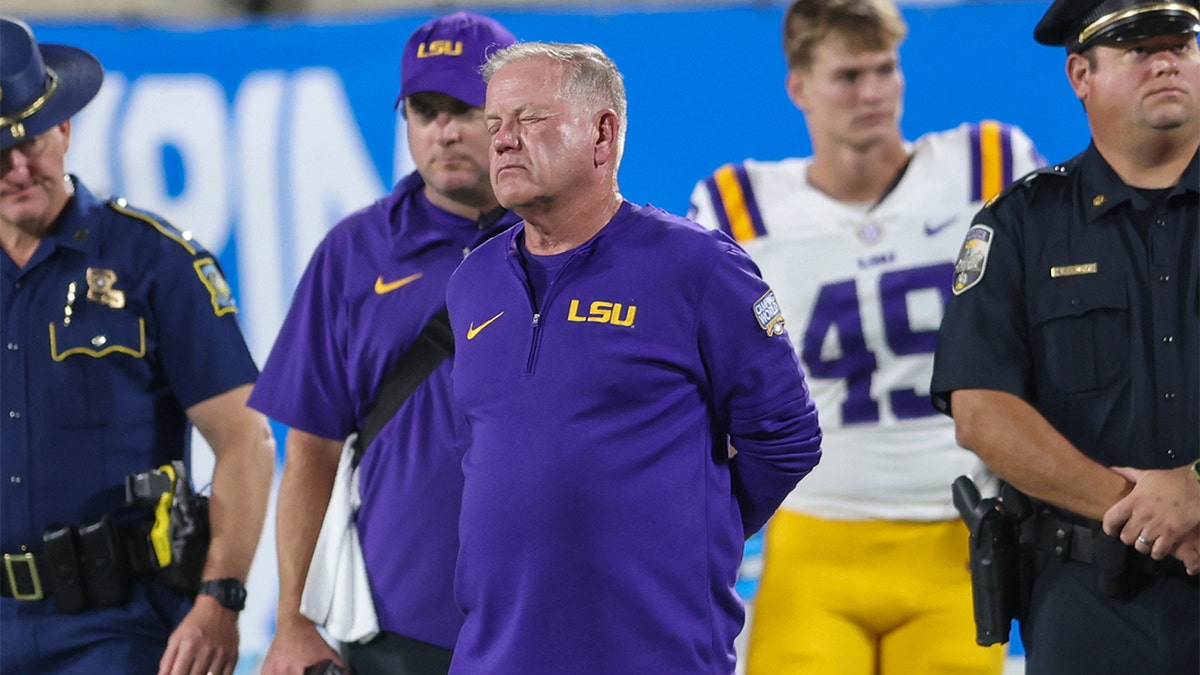 "Playing on the road in the SEC is a great challenge," Kelly said this week, according to 247 Sports. "Playing an SEC opponent obviously doubles that. You have to deal with all of the things that go with travel, playing at 11 a.m., cowbells and all of those things.
Tigers quarterback Jayden Daniels threw for five touchdowns – a career-best – against Grambling State, but the Mississippi State defense allowed just 24 points in Week 2 to an Arizona offense that averaged 31.0 in 2022.
The Bulldogs' defense did allow 431 yards but forced five turnovers in the overtime win.
"You've got to get better each and every week," Mississippi State safety Marcus Banks said. "We said from the first game, you've got to get better for Arizona, and now we have to get better for LSU. It's just going to continue to get tougher, especially when we come into SEC play."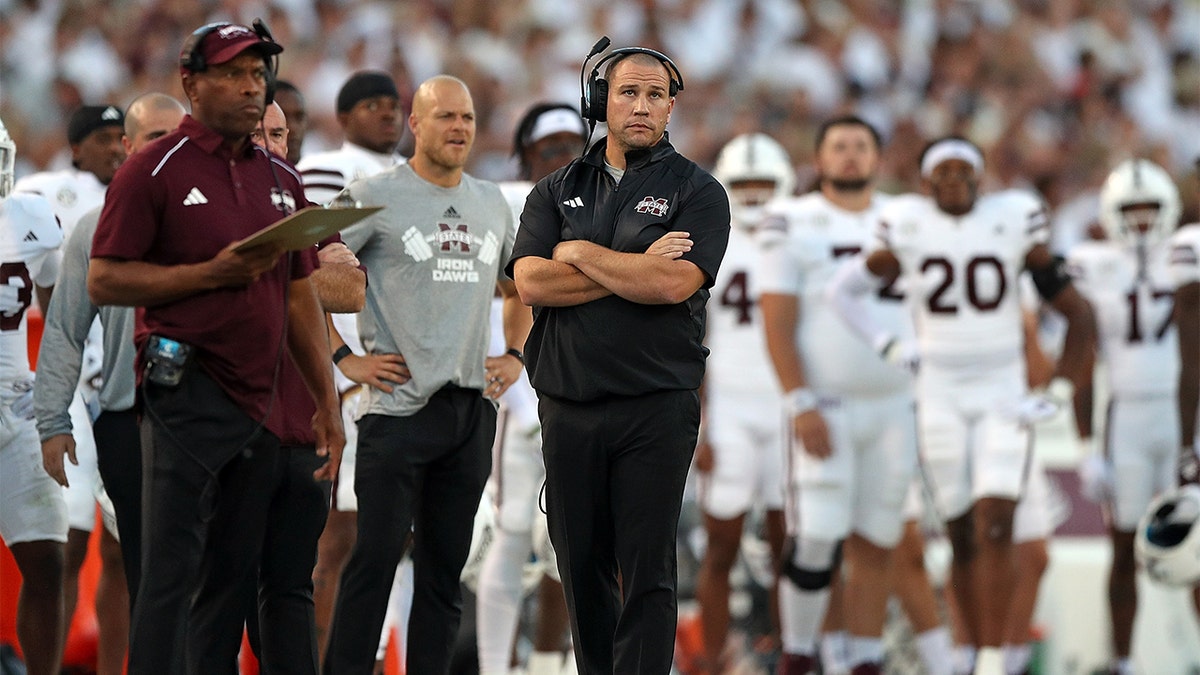 CLICK HERE FOR MORE SPORTS COVERAGE ON FOXNEWS.COM
LSU's defense is allowing the most yards per game of any SEC team (407) through the first two weeks of the season.
The Tigers have won six of their last eight games against the Bulldogs, including a 31-16 win at home last season in Kelly's first year as head coach at LSU.
No. 1 Georgia vs. South Carolina – 3:30 p.m. ET
The Bulldogs have not played anyone in the first two weeks of the season and get their first SEC matchup as the Gamecocks travel to Sanford Stadium.
Tennessee Martin and Ball State did not present much of a challenge, and it's unclear if South Carolina will be the team to put up a fight against Georgia. The Bulldogs don't have a ranked team on their schedule until Nov. 11.
"It's not been the caliber of guys we go against in practice," Georgia head coach Kirby Smart said. "Right now, the evaluation has been easy. It begins to get a lot harder this week."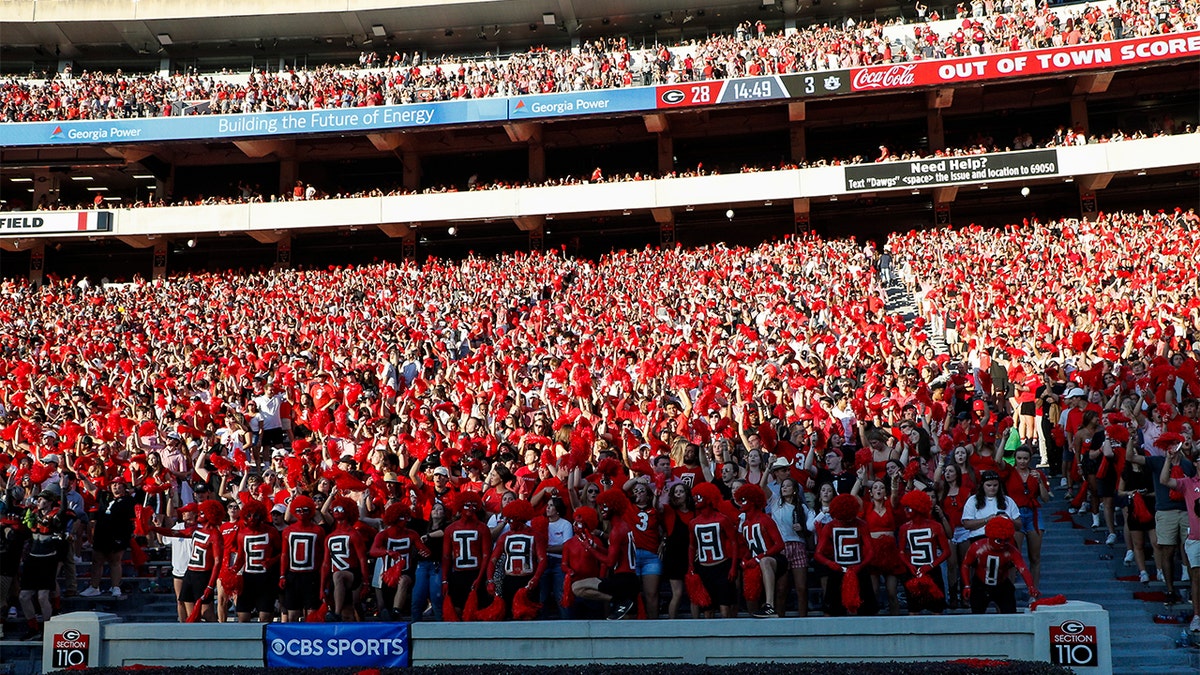 Starting quarterback Carson Beck will get his first start against an SEC opponent after throwing for 577 yards, three touchdowns and an interception in the first two weeks.
COLORADO CHANCELLOR ON DEION SANDERS TURNING AROUND THE FOOTBALL PROGRAM: 'THE BIGGEST STORY IN SPORTS'
In Week 1 against North Carolina, the Gamecocks allowed quarterback Spencer Rattler to be sacked nine times, which is certainly something to be aware of against a Georgia defense that has dominated the past two seasons.
South Carolina was blown out last year at home against Georgia, losing 48-7, and hopes to send a message after a disappointing Week 1 performance to kick off the year.
"This is a statement game," South Carolina cornerback Marcellas Dial said. "We're hoping to go out there and knock them off, like last year against Tennessee, last year against Clemson. Everybody counting us out before the game started, [saying we] can't compete with them."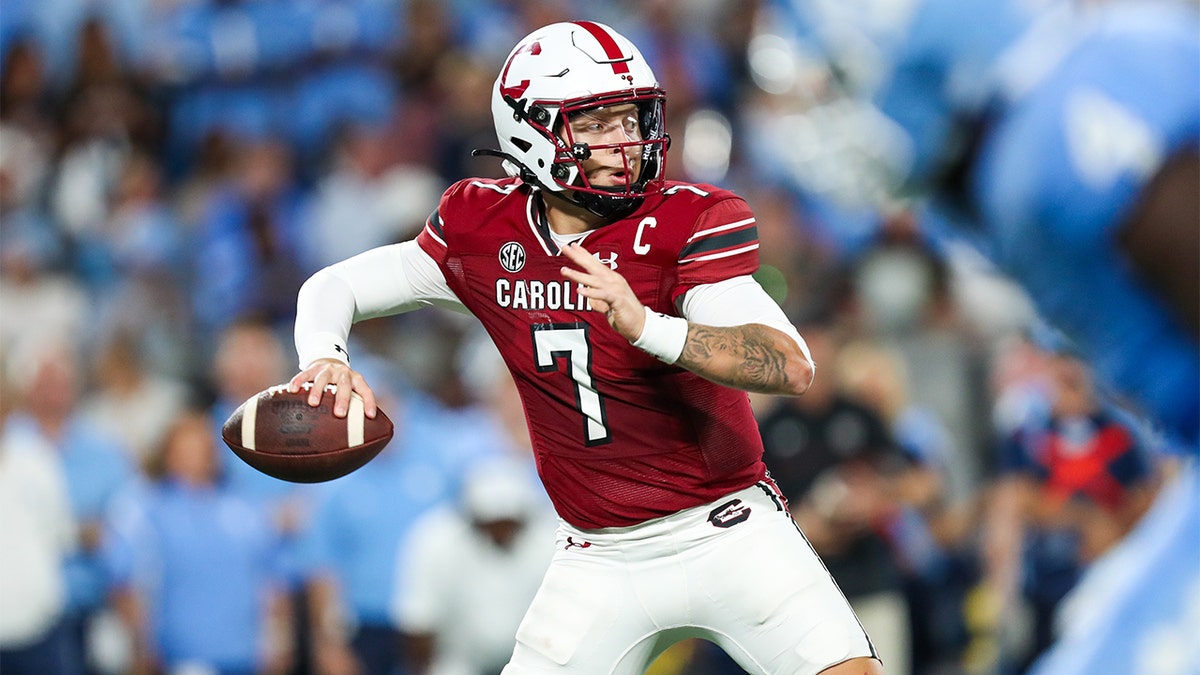 "We're just trying to go out there and make a statement: We can compete with everybody, and we can create another miracle like we did last year."
Georgia has won 19 straight and 35 of their last 37 games.
Florida vs. No. 11 Tennessee 7 p.m. ET
After a magical season in which Tennessee finally returned to relevance, the Vols have been slightly under the radar to start the year. Tennessee has a new quarterback in Joe Milton III who has the Vols at 2-0 after wins over Virginia and Austin Peay.
Tennessee allowed Austin Peay to hang around, taking just a 13-7 lead into halftime. Players held a players-only meeting on Sunday, senior defensive lineman Omari Thomas confirmed Tuesday.
"Yes, it was said, and we did have one," Thomas said, according to the Knoxville News Sentinel. "And what we talked about in there, we just talked about how we just got to continue to approach the week. We can't change our preparation. We know it's a big game, first SEC game of the year, know it's a rivalry game."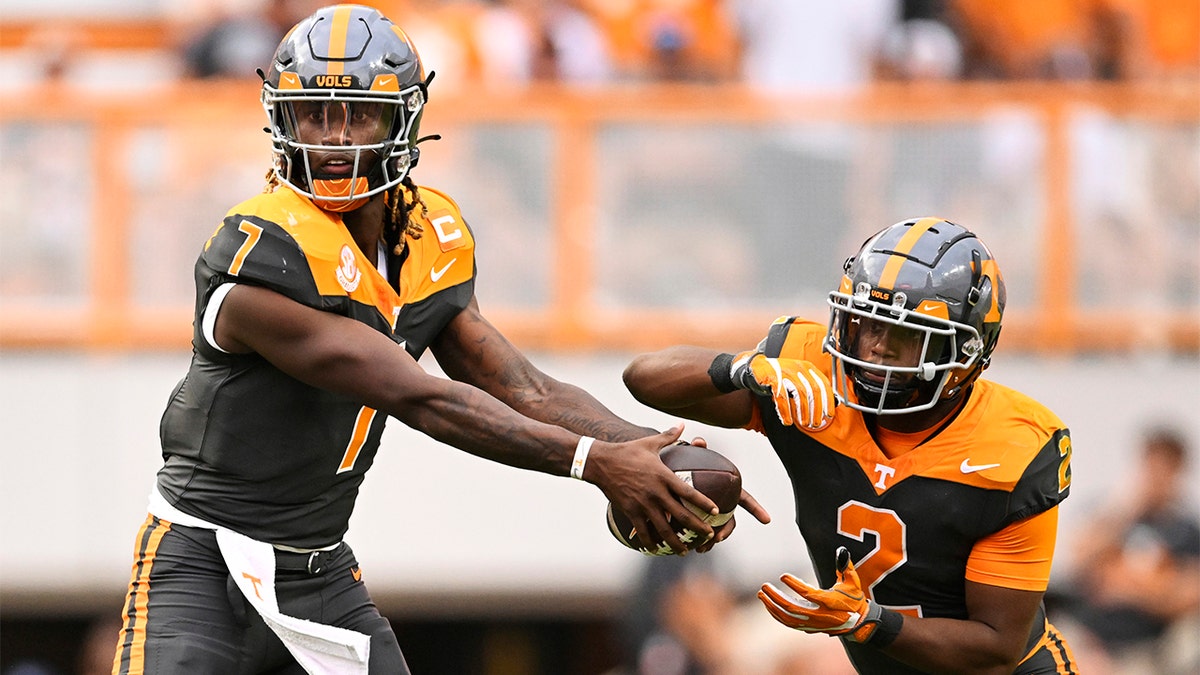 OHIO STATE COACH SEEKS 'MORE VIOLENT' OFFENSIVE LINE AS SEASON MOVES FORWARD
Tennessee is fourth in the country in rushing yards per game (275.5) while Florida is third in the SEC in rushing yards allowed per game (75.5).
Florida is 1-1 on the year after losing to Utah to open the season before bouncing back against McNeese State last week.
While Tennessee defeated Florida last year, it's a matchup that has been dominated by the Gators in recent memory. Florida has won 16 of the last 18 games with Tennessee failing to win at "The Swamp" since 2003, losing nine games in a row in Gainesville.
"If you're an elite competitor, you live for opportunities like these," Florida head coach Billy Napier said. "These games, this is why you come to the University of Florida, to play in these games. And certainly we're excited about playing in front of our crowd. Look, our players, they feed off of our fans. They bring great energy, and certainly they can make it difficult for the other team to play, and that is exactly what we want them to do.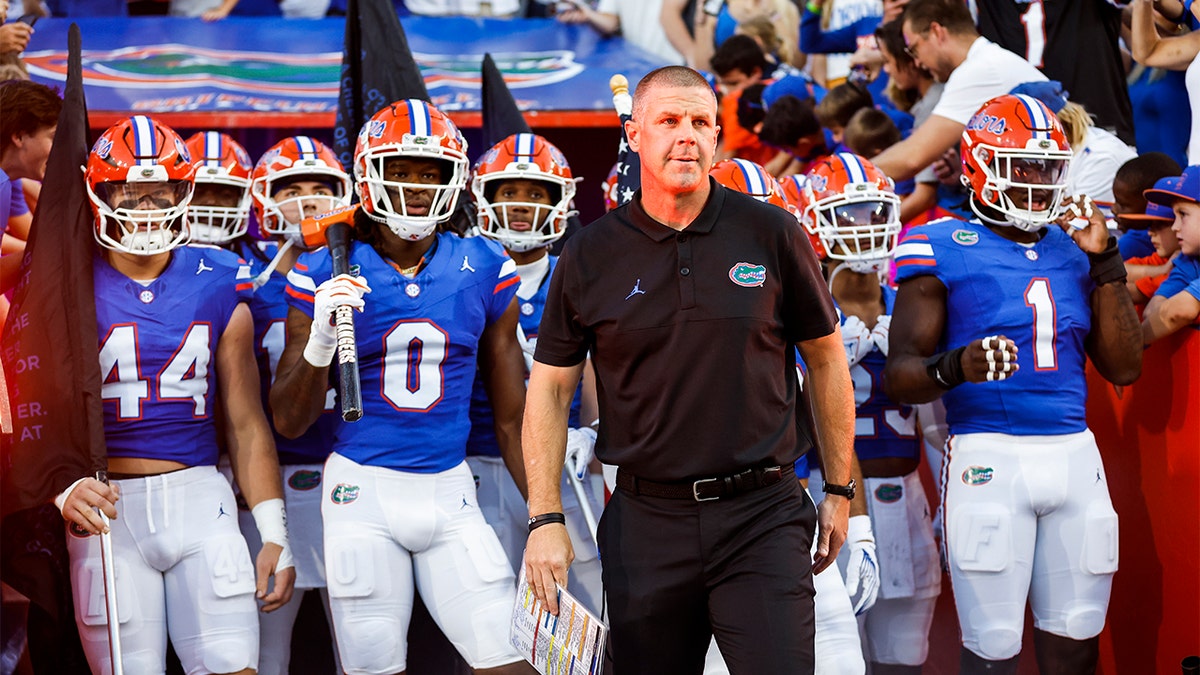 "We're asking everybody to wear blue this weekend, and I know our fans are excited about the game."
No. 18 Colorado vs. Colorado State – 10 p.m. ET
For those who are looking for an entire day of college football, a 10 p.m. ET kickoff in Boulder should do the trick.
The Buffaloes are looking to start 3-0 under "Coach Prime" and all of college football will be in Boulder for the matchup against Colorado State. 
NCAA BOARD 'TROUBLED' BY UNC COACH MACK BROWN'S CRITICISM OVER TEZ WALKER'S ELIGIBILITY RULING
Colorado started slow against Nebraska, failing to score until the 4:20 mark of the second quarter. After punting on its first four possessions, Colorado scored on seven of their next eight drives to beat the Cornhuskers, 36-14.
"This team," Sanders said, "hasn't scratched the surface of what it's capable of doing."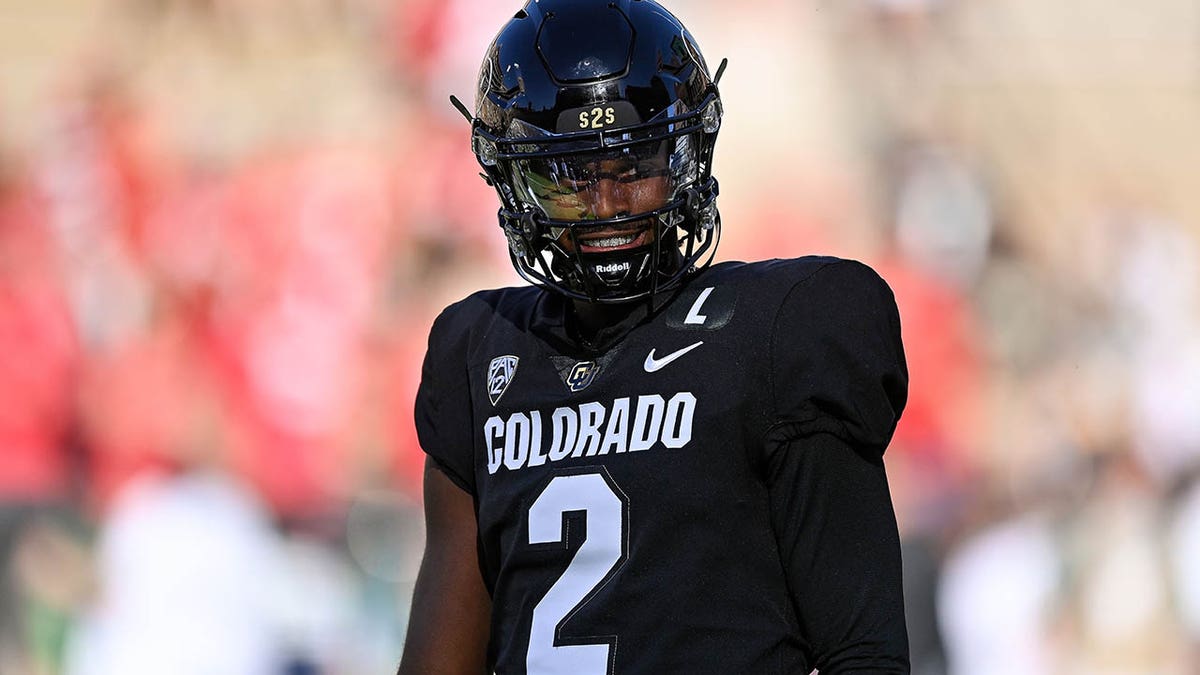 Shedeur Sanders threw for 392 yards and two touchdowns while the defense forced four turnovers – three in the first half – to move to 2-0.
The Buffaloes have won five straight in the "Rocky Mountain Showdown" against Colorado State, though the two teams have not played in the last three seasons.
The Rams are 0-1 and will be making a change at the quarterback position, announcing that redshirt freshman Brayden Fowler-Nicolosi will start against the Buffs.
Clay Millen got the start in Week 1 against Washington State but was replaced by Fowler-Nicolosi after injuring his shoulder in the second half, according to ESPN.
CLICK HERE TO GET THE FOX NEWS APP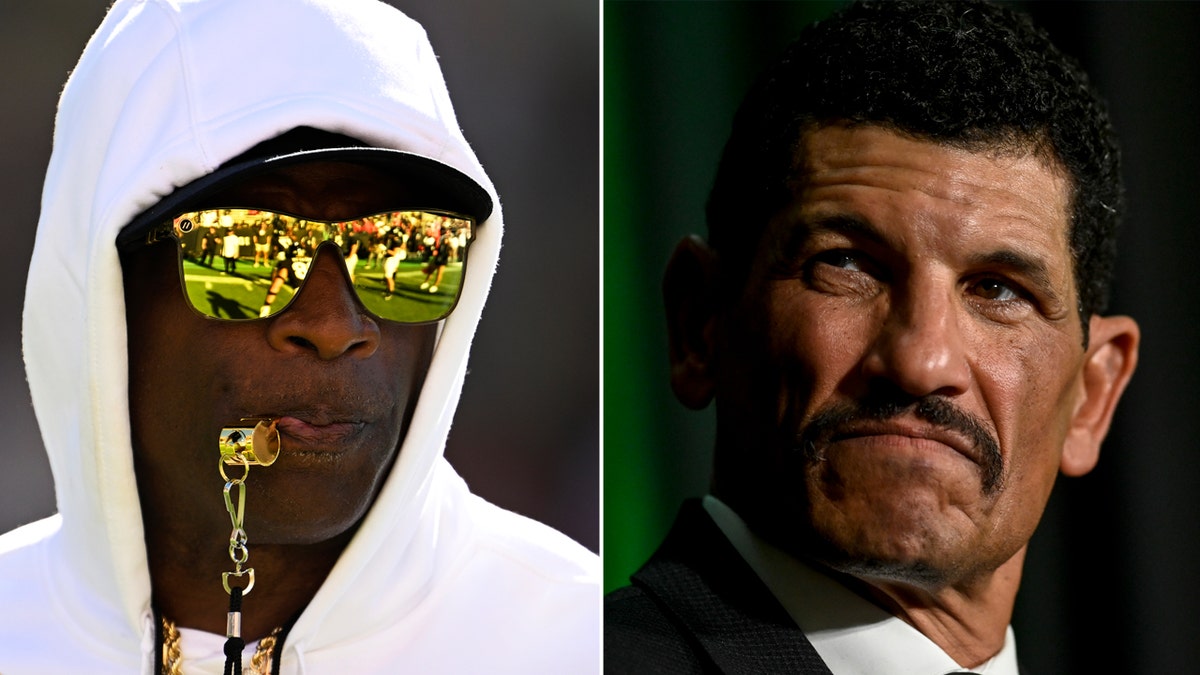 Colorado State head coach Jay Norvell threw some spice into the rivalry on Wednesday, appearing to take a shot at Sanders.
"We had to do a bunch of ESPN videos. And it's great. I loved it. But our kids came out of those videos really with a chip on their shoulder," Norvell said on his weekly radio show. "They're tired of all that stuff. They really are tired of it."
"I sat down with ESPN today. And I don't care if they hear it in Boulder. I told them, 'I took my hat off, and I took my glasses off.' And I said, 'When I talk to grown-ups, I take my hat and my glasses off.' That's what my mother taught me. They're not going to like us no matter what we say or do. It doesn't matter. So, let's go up there and play."
The Associated Press contributed to this report.