Lucas Havrisik made a 22-yard field goal for the Rams with 1:31 to play, and Jason Myers missed a 55-yard attempt for the Seahawks with 3 seconds left in Los Angeles' 17-16 victory over Seattle on Sunday.
Matthew Stafford passed for 190 yards in his return from injury and led two scoring drives in the fourth-quarter comeback by the Rams (4-6), who snapped their three-game losing streak with their second win over the Seahawks (6-4) this season.
CLICK HERE FOR MORE SPORTS COVERAGE ON FOXNEWS.COM
Los Angeles hung on only after Geno Smith returned from a late injury of his own and led a frantic last-minute drive into field goal range. But Seattle ran out of time and had to settle for a long attempt that was missed badly by Myers, who had already hit three field goals at SoFi Stadium.
Seattle appeared to be cruising toward its fourth victory in five games until Smith, who passed for 233 yards, was sidelined by a hard hit from Aaron Donald late in the third quarter.
Darrell Henderson then ran for a 1-yard TD with 7:38 left to trim Seattle's lead to two points, and Derion Kendrick intercepted Seattle backup Drew Lock's long pass on Seattle's next possession. Stafford drove the Rams to the Seattle 4 before they settled for Havrisik's short field goal.
Smith made a 21-yard completion to DK Metcalf over the middle to the Los Angeles 39 with about 30 seconds left, but the Seahawks couldn't get closer for Myers.
Stafford hit Puka Nacua for a touchdown shortly before halftime for the Rams, but Seattle's defense held Los Angeles to 123 yards in the first three quarters. The Seahawks ultimately couldn't stop the Rams' ground game in the fourth quarter led by Royce Freeman, who rushed for 73 yards.
Metcalf caught a TD pass in the first quarter for Seattle, which also committed 12 penalties for a whopping 130 yards.
COWBOYS' DARON BLAND TIES NFL RECORD WITH ANOTHER PICK 6 IN WIN OVER PANTHERS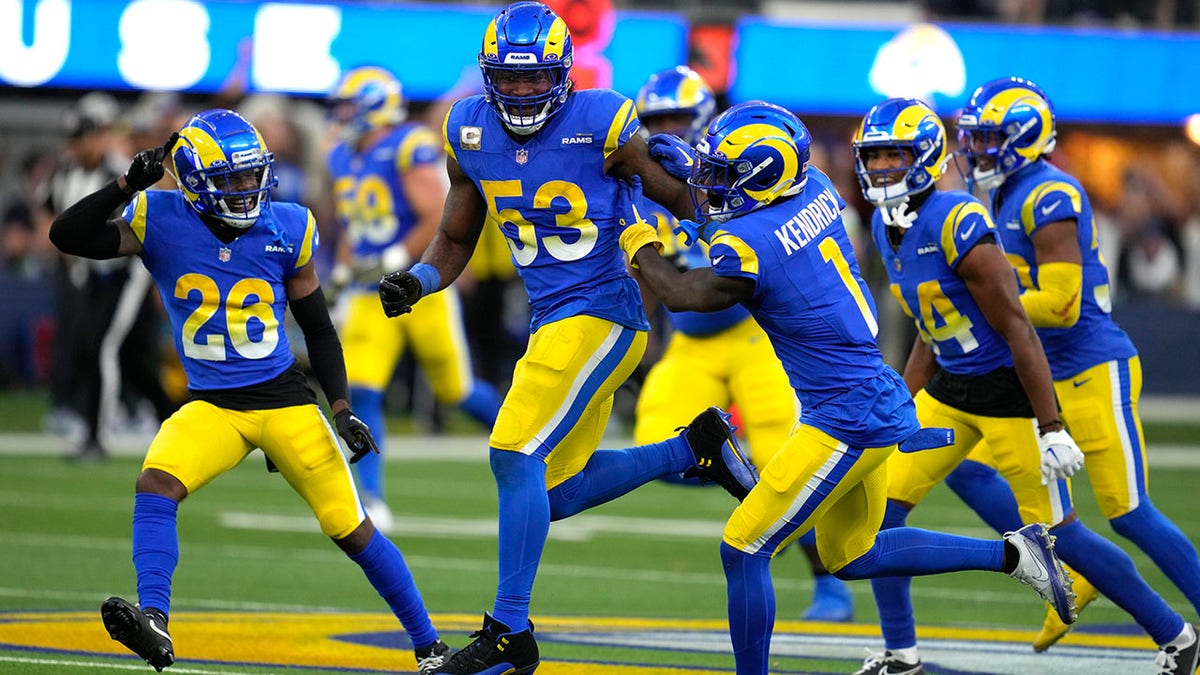 Stafford missed the Rams' last game with a sprained thumb ligament, but he returned with a brace on his hand and looked sharp on a series of impressive throws, none better than a picturesque 32-yard fling to Nacua on their go-ahead, fourth-quarter drive.
Receiver Cooper Kupp didn't return for the Rams after injuring his right ankle in the second quarter when a Seattle defender stepped on it.
Seattle went 88 yards for Metcalf's TD reception on its opening drive. Los Angeles then drove deep into Seahawks territory with help from several penalties, but Stafford threw incomplete on fourth down from the Seattle 2.
The Seahawks went up 13-0 before Los Angeles finally mounted a scoring drive in the final minutes of the first half, capped by Nacua's 4-yard catch with 9 seconds to play for the third TD of his breakout rookie season. The Rams also avoided being shut out in the first half for the first time in their 107 regular-season games under Sean McVay.
INJURIES
Seahawks: S Jamal Adams sat out with a knee injury, and rookie S Jerrick Reed II went down in the second half with a knee injury. … RB Kenneth Walker III incurred an oblique injury in the first quarter and didn't return. Rookie Zach Charbonnet had 47 yards rushing and six receptions for 22 yards.
Rams: CB Cobie Durant sat out with the aftereffects of a stinger incurred before the bye. … Kupp's ankle got stepped on while he was blocking, and he went to the locker room at the 2-minute warning before halftime. The former All-Pro missed the second half of last season following ankle surgery, and he missed the first four games of this season with a hamstring injury.
CLICK HERE TO GET THE FOX NEWS APP
UP NEXT
Seahawks: Host San Francisco on Thanksgiving night.
Rams: At Arizona on Nov. 26.