November 17, 2023
3 min read
The U.S. will see "fewer emergency room visits, fewer asthma attacks" and will save money if it cuts carbon emissions, a new Union of Concerned Scientists analysis says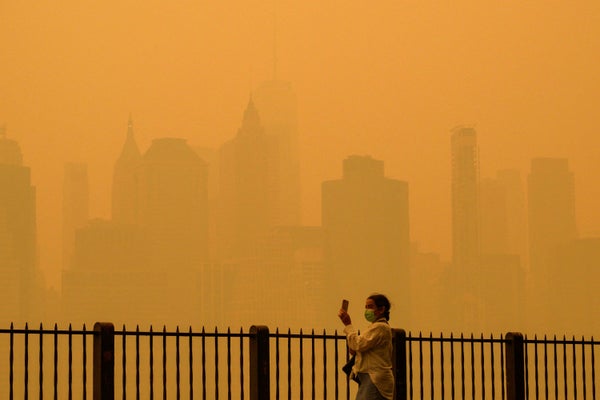 CLIMATEWIRE | Cutting carbon emissions sharply over the next three decades will prevent tens of thousands of deaths in the U.S. and save trillions of dollars by reducing air pollutants and easing climate-fueled disasters, according to a report released Thursday.
The Union of Concerned Scientists advocacy group estimates that at least 32,000 deaths could be prevented if the U.S. can achieve net-zero emissions by 2050, as renewable energy sources replace fossil fuels that emit toxic chemicals and fine particles causing respiratory illnesses.
The report also says the U.S. can avoid nearly $1.3 trillion in damages from disasters likely to intensify under climate change and save at least $360 billion in health care costs by 2050 if the country reaches net-zero emissions by the same year.
"Those benefits are offsetting the cost" of reducing emissions, said Steve Clemmer, one of the report's authors and the science group's director of energy research and analysis.
"Fewer emergency room visits, fewer asthma attacks and public health impacts that result from toxic air pollutants" outweigh the cost "to invest in clean energy technologies to achieve our climate goals," Clemmer added.
The estimates for preventable deaths and excess health care spending are conservative in many ways, and the real figure could be much higher, Clemmer said. The report uses a model that accounts only for deaths caused by air pollutants such as fine particles and excludes those killed by intensifying heat waves, rainstorms, wildfires and hurricanes.
The actual figure for avoided damages from natural disasters could also be much higher than $1.3 trillion, Clemmer said. The authors calculated the impact from carbon dioxide emissions and disregarded warming caused by other greenhouse gases such as methane and hydrofluorocarbons, which are both much more potent than CO2.
Climate scientists say global warming will fuel more intense and frequent storms that inundate neighborhoods and key infrastructure such as roads, bridges and power grids. With rising sea temperatures, hurricanes also are increasing in strength and are more likely to reach inland areas and dump inches of rain in a matter of hours.
To calculate the estimates for excess deaths and avoidable health care costs, the report authors used a climate model that simulated four different future pathways of yearly U.S. greenhouse gas emissions. The authors compared net-zero scenarios with an unmitigated U.S. emissions trajectory to calculate excess deaths and increasing health care costs from burning fossil fuels.
For the damage estimate from climate-fueled disasters, authors used a federal government dollar figure that approximates the harm from an extra ton of carbon emissions, which is called the social cost of carbon, Clemmer said. The federal government currently prices carbon at $51 per ton, but EPA has proposed to increase that number to $190.
The report also found that the Inflation Reduction Act, the climate law that Congress passed in 2022, has "more than doubled" the pace of emissions reduction but still falls short of achieving the Biden administration goal of halving emissions by 2030 and reaching net-zero emissions by 2050. The pace of cutting carbon emissions needs to reach 5 percent per year from the current 3 percent, the report notes.
"We've waited for so long that 2030 is not very far away," Clemmer said. "We need to achieve pretty deep reductions."
Reprinted from E&E News with permission from POLITICO, LLC. Copyright 2023. E&E News provides essential news for energy and environment professionals.