The Colorado Buffaloes are the talk of the college football world due simply to the presence of head coach Deion Sanders. 
"Coach Prime" has stunningly turned around a Colorado program that went 1-11 in 2022, as he has his Buffaloes at 2-0 heading into Week 3 against Colorado State.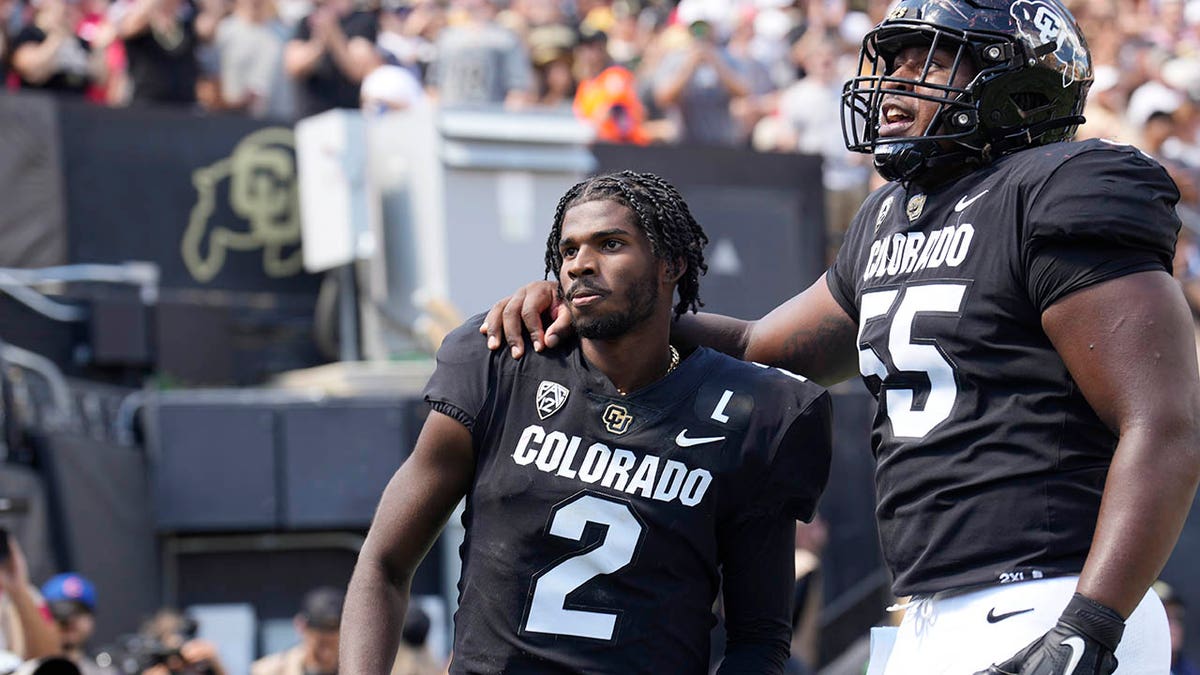 On Saturday, Fox's "Big Noon Kickoff" and ESPN's "College Gameday" will be in Boulder for the rivalry game between the two in-state schools, and it is all because of Sanders, his personality and the roster he has built at Colorado in less than a year. 
NCAA BOARD 'TROUBLED' BY UNC COACH MACK BROWN'S CRITICISM OVER TEZ WALKER'S ELIGIBILITY RULING
Prior to Colorado's game against Nebraska – a rivalry game that was played every year from 1948-2010 – Sanders gave an electric speech to his team before beating the Cornhuskers 36-14. 
"With every journey, there's gonna be some real obstacles that's strategically placed in your path that you must get over, get by, get through, get away from," Sanders said to his team. "And you gotta deal with it. See, the thing about those obstacles is that it's personal. Normally it's the things that you care about, the things that mean a lot, the things you must deal with right now that you can't put off, and you can't procrastinate about. 
"Now see, I pride myself on being a great father," he continued. "They say most African American men are not great fathers, but the devil is a lie. One thing about a father, a real father – I don't care what his ethnicity – if you say something about his kids it's personal. If you say something about his woman, it's personal. If you just come on his property and do something that you have no business doing, it gets personal.
Nebraska head coach Matt Rhule took a shot in the offseason at how some football programs were building through the NCAA transfer portal, which many took as being directed toward Sanders and Colorado.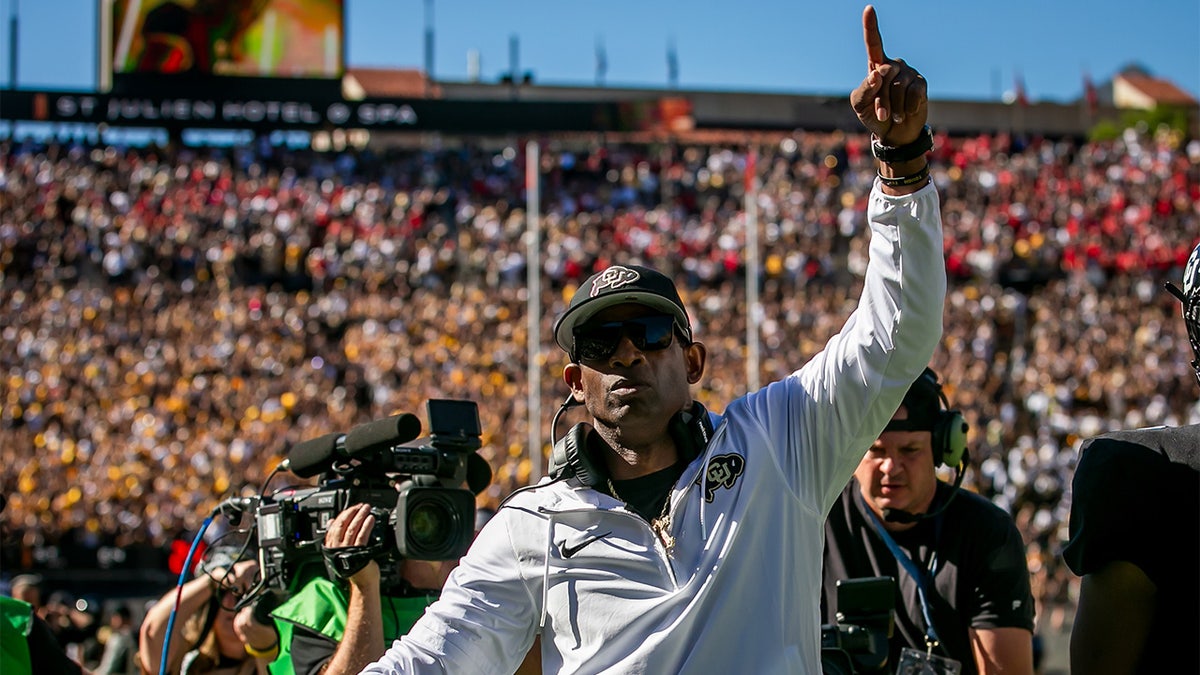 CLICK HERE FOR MORE SPORTS COVERAGE ON FOXNEWS.COM
Sanders certainly appeared to think so. 
"And the reason it's so personal to me is they said it's about my kids," Sanders told his players before the game. "You think I'm going to let them talk about y'all, and it ain't going to be personal? You think I'm going to let them doubt y'all, and it ain't gonna personal? You think I'm going to let them naysay y'all, and it ain't going to get personal?
"I respect their head coach a lot," he added. "He said some things. He tried to back off of it. But it's too late because … it's personal."
The bad blood continued after the game with Shedeur Sanders, Colorado's quarterback and Deion's son – calling Nebraska's pregame meeting at the 50-yard line disrespectful. 
"It was extremely personal, you go out there and warm up, and you've got the head coach from the other team standing in the middle of the Buff," Sanders said. "It's OK if a couple of players do it, it's fine, just enjoy the scenery. But when you've got the whole team trying to disrespect it, I'm not going for that at all. I went in there and disrupted it.
CLICK HERE TO GET THE FOX NEWS APP
"The Buffaloes mean a lot to me — personally — and that's what I was saying in pregame. And that's when I knew it was extreme disrespect. The coach said a lot of things about my pops, about the program. I don't respect that, because you're hating on another man you shouldn't do that. All respect was gone for them and their program.
"I like playing against their (defensive coordinator), but respect level ain't there, because he disrespected us first."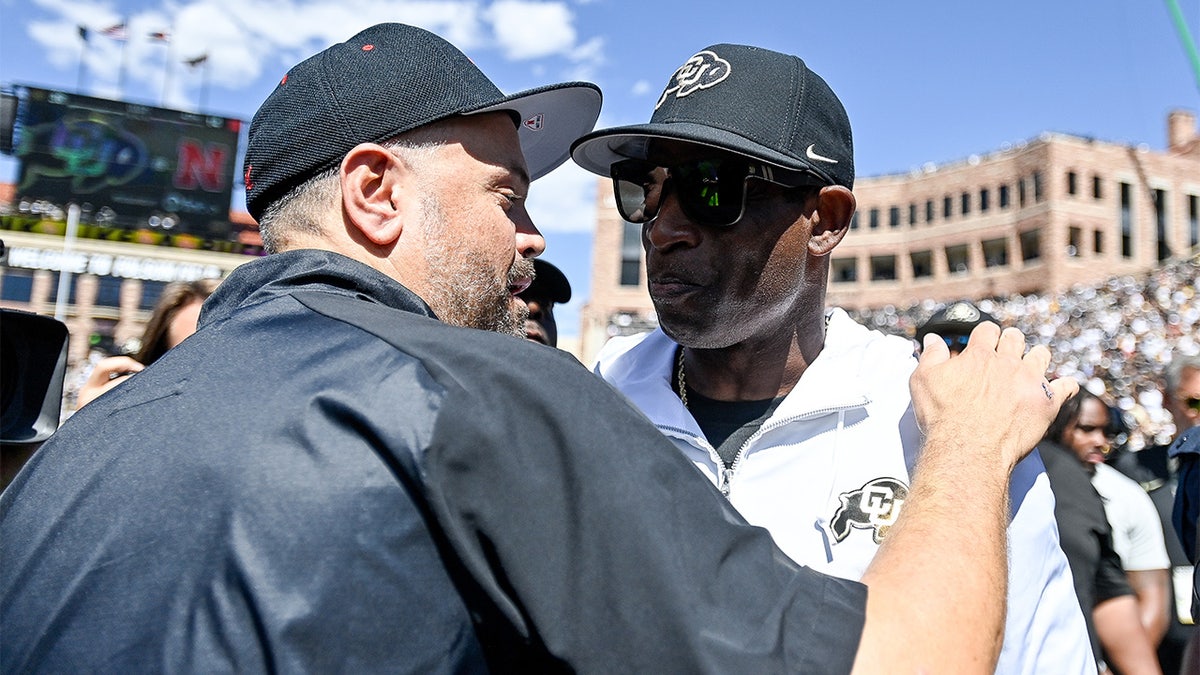 On Monday, Rhule said the pregame meeting is something he does at every stadium as his team prays "for blessings."
OKLAHOMA'S JEFF LEBBY APOLOGIZES FOR HAVING DISGRACED BAYLOR COACH ART BRILES, HIS FATHER-IN-LAW, ON FIELD
"No one is going to tell me who I am," Rhule said. "At the end of that game, they told me. 'Hey. We're going to run right off the field. They're going to storm the field.' I said, 'Absolutely not. Absolutely not. Absolutely not.'
"I don't care if I get beaten up by a mob. I'm running across that field, and I'm shaking Coach Sanders' hand. When you're losing, people are going to say all kinds of things about you. I know exactly who I am. I know exactly who I am. And I'm coaching this team with class, and I'm not changing. I went over there, and I shook that man's hand, I whispered in his ear. I've never disrespected an opponent a day in my life. I never will." 
Colorado and Colorado State kick off at 10:00 p.m. ET.
Fox News' Ryan Gaydos contributed to this report